Product Code : TNIM6, TNIMH6, TNIMC6
Technical Data (pdf)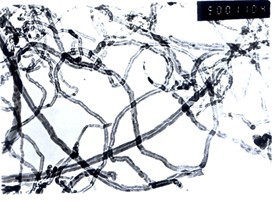 Product Description:

Timestub
TM
----normal Multi-walled carbon nanotubes----There are three kinds of products in this catalog: TNIM6, TNIMH6 and TNIMC6. TNIM6 is produced by natural gas catalytic decomposition over Ni/Al2O3. TNIMH6 and TNIMC6 are TNIM6 hydroxyl and carboxyl derivates, respectively. They are produced by KMnO4 oxidation in HCl solution at different temperature and KMnO4 concentration.
Property
Unit
IMWCNTs
Method of Measurement
TNIM6
TNIMH6
TNIMC6
OD
nm
20-40
20-40
20-40
HRTEM,Raman
Purity
wt%
>95
>95
>95
TGA & TEM
Length
microns
10-30
10-30
10-30
TEM
SSA
m2/g
>80
>80
>80
BET
ASH
wt%
<5
<5
<5
TGA
Tap Density
g/cm3
0.16
0.16
0.16
Ig/Id
--
--
--
--
Raman
-OH Content
wt%
1.63
XPS & Titration
-COOH Content
wt%
1.43
XPS & Titration
OD=Outer Diameter, ID=Inner Diameter, SSA=Special Surface Area